C.E. Rensberger & Family is named for the pioneer of our family business. Charles Earl Rensberger (1886 – 1967) was the first Rensberger of our line to become a builder. From the farm country of northern Indiana, Charles headed to Florida in the early 20th Century, taking with him the Mennonite tradition of fine carpentry and an industrious work ethic.
As the new railroad pushed south from Jacksonville, C.E. Rensberger followed, building post offices along the route until he landed in Miami and bought a modest house for himself. Eventually he turned to home building as an independent contractor. Most of the year he built houses in and around Indianapolis and spent the winter months in Miami. (Nowadays we keep at it all year 'round.)
Charles's son, Earl Albert Rensberger (1907 – 1986) continued in the family business. On one occasion Earl, while a young man on a framing crew near Goshen Indiana, felt an unusual tremor from the ground. Born deaf, he may have been unusually sensitive to vibration. He fixed the direction whence it came and walked toward it, alone. Some distance later he found a derailed passenger train and began pulling victims from the wreckage.  For the lives he saved he received a letter of commendation from President Roosevelt. Family lore also has it that Earl was the first deaf American to become an Eagle Scout.
Earl's son, Boyce Charles Rensberger (1942 –  ) grew up in the tradition of homebuilding, "assisting" his grandfather as he visited construction sites and working during school summers as a carpenter. Boyce, who calls himself the black sheep of the family, chose to go into science journalism as a career, working at such newspapers as The New York Times and The Washington Post. He also taught science writing at M.I.T.
It was Boyce who relocated the family to Frederick, Maryland in 1982. He would soon discover Frederick County's long history of Swiss and German Rensbergers (and related variants of the name). Among the earliest settlers in Frederick was Johann S. Remsperger (1711 – 1789), who lived for a while in what today is the oldest existing home in Frederick, called Schifferstadt.
The present generation of Rensbergers from Charles Earl's line are Erik Rensberger (1971-    ), an electrician, and Joel Rensberger (1975-    ). Joel Rensberger is a nearly lifelong resident of Frederick County. He proudly traces his career in building to when he was 8 years old and straightened pulled nails for his grandfather. (Frugality runs in the family.)
After graduating from the University of Maryland, Joel has built and renovated a wide range of homes including the Roger Johnson House (ca.1790); a saltbox in Urbana, Maryland, all the way to full ground-up construction of a Queen Anne inspired Victorian located in Mt. Airy, replete with a full turret and wrap around porch, not to mention state-of-the-art geothermal heating and air conditioning. And, as a building manager for other construction companies, Joel has managed and supervised the construction of hundreds of new homes across Maryland and Northern Virginia.
We bear the name of this great Mennonite pioneer, and we proudly uphold the values he instilled in all of us.
---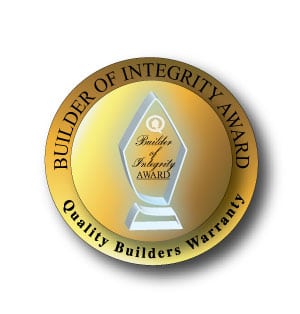 We received the "2019 Builder of Integrity" award from Quality Builders Warranty Corporation (QBW). Recipients of this exclusive award demonstrate a commitment to excellence in customer service and quality construction.
As a member of the QBW Program, C.E. Rensberger & Family, LLC, has been committed to technical excellence, professional dealing, ethical practice, and financial stability. All members of the program are screened thoroughly on a regular basis, to ensure their continued dedication to quality. From that group, only a small number of homebuilders nationwide receive the "Builder of Integrity" award. As a member of the QBW Program, C.E. Rensberger & Family has demonstrated excellence in customer service that has gone above and beyond the industry norm.
Thank you, QBW, for your recognition of our dedication to our clients and delivering a quality home!